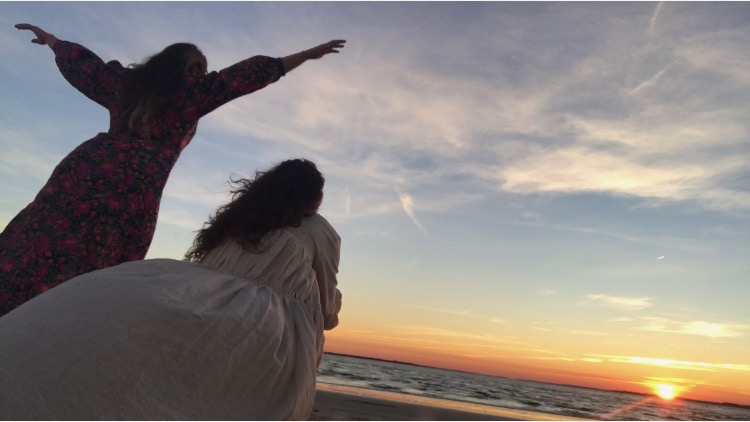 Photo: Precious and Megan, December, 2020, Charleston, SC

Align the Fibers of Collaboration : Object Permanence

Precious Jennings and Megan Schneeberger - movement
Ryan Packard - Website/sound designer
Wilson Tanner Smith, Frank Rosaly - Musicians
Jane Jerardi - technology and performance dramaturg.

This project is an intersection of two processes "Align the Fibers" physical research processing wool, yarn and textiles as contemplative performance practice and Object Permanence a textile based performance using garments left by a loved one.

This collaboration is borne out of the intersection and experience of the Covid pandemic and of personal loss, Megan and Precious both had sister pass away before the pandemic began. We want to be transparent in our process as artists. We have and are experiencing grief. Grief is not just the deep hurt it is also deep joy.

We are connecting through distance, keeping the community of dancers, improvisers and musicians connected, in ways that probably would not happen if not for the pandemic. We will invite other artists in as we go, to interview, to add to, to make the fabric of this project richer, depending on each individual's story. As live performing artists we want to continue to build intimate relationships that honor vulnerability and communication. Recognize a shared experience - naming and understanding grief during this time, giving expression to the unseen and complex emotions of this time.

Ryan will create a publicly available and interactive portal here on this website....it will track the development of this performance from February-June with images, video, text, notes and interviews. This journal is an archival map of process and source of performance material. Jane Jerardi is 'digital dramaturg' acting both as an outside eye and advisor. This project will culminate live mixed across distance using a combination of software -- Skype, Isadora and OBS to broadcast live online. "Remote performance" connecting performers in multiple site specific locations for a live broadcast.