June 2023:
It was an enlightening harvest season and spring!! Interim support is needed for training others in the Low Country processing and the work as I meet others who need/want support in growing and processing. Hands-on learning is needed, so I've created (Click below!!!)a fundraiser for my non-profit Align the Fibers, registered 501-c3, your donation is tax-deductible!!!

September 2022:

I am managing Chi design indigo's seasonal harvest and processing this fall. We have built new aerating pumps and filter tables in collaboration with design and building extraordinaire Romain Guimard. We are working on purity, increasing processing capacity, efficiency, and eliminating waste.
ATF : OP with Megan Schneeberger will continue during harvest season in the backyard where Chi Design has set up end processing here on Mt. Pleasant Street staying with Megan, Romain, and City Cat. We will continue our Ad-hoc ways...sharing space, and communing with humans, the ocean, and all the animals...

Meanwhile, in Chicago, we are seeking funding for building and performance with canoes and kayaks, for what has become "Align the Fibers : Trees" with Bryan Saner and Erica Mott. I have much gratitude for being able to be in two places, feel supported at deep level. I believe it will come together when it is supposed to...until then we continue to build...

This summer, I was a part of my first play, a staged reading with my teacher and mentor Fay Simpson. We did the reading at the end of her residency at The Catwalk, in Catskills, NY and at her studio in NYC Lucid Body House. Much Gratitude, for everyone I met this summer, now, on to transforming with Indigo!


May 2022:

I have arrived back in Charleston, SC! I am continuing my learning with Chi Indigo Design managing the shop at the Spoleto Festival and meanwhile planting Indigo that will be harvested in the fall.
I have 30lbs of wool to dye with indigo, I have been plying it with my singles wool from last year.
I will be working on some other creative projects this summer, and some editing work for an SEL curriculum for Mindful Practices. I am feeling very blessed and supported as I continue to find how all of my interests shift and go back to the known and the unknown.
I will be visiting Bossville Farms and working on some creative ideas for the future there, working on artistic community-building project, and a Fall dye party for the indigo that's planted!
Chicago, yes, Chicago! woodworking at Lathrop Homes with Bryan Saner and Erica Mott on our continued kayak and canoe project. MORE to come soon....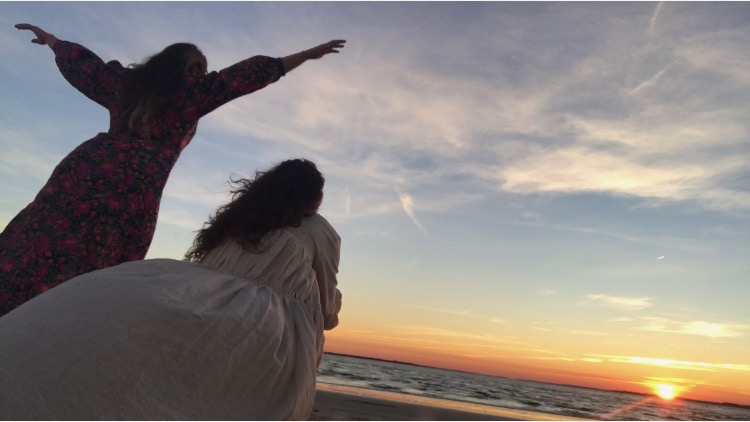 Photo: Precious and Megan, December, 2020, Charleston, SC

Align the Fibers : Object Permanence

"Align the Fibers : Object Permanence" is an experiment in sustainable production processes for performance. We are embarking on a two year process of interweaving our creative practice with TrueEarth Farm's hemp production cycle.

We are looking for sustainable and nurturing methodologies of performance creation and find traditional western concert dance production inappropriate for this collaboration. We are engaging with grief and loss building our own methodology that will support this investigation. If methodologies are used to create and support reciprocity, it becomes a healing and regenerative practice that can potentially be applied across artistic disciplines and industries.

We are partnering with TrueEarth CBD farm because they have a gap in their production cycle in processing the whole plant. They are a research and development farm dedicated to sustainable best practices for health and well-being. We will explore possibilities for processing the hemp fiber after TrueEarth has extracted the CBD, be a part of research in finding the best variant to plant for fiber production and while in residency help with maintaining the farm. Our research will document how our three practices intersect, converge and diverge to further support our work. The agriculture industry struggles to support sustainable processes and performance artists have a similar experience in how we sustain ourselves physically, mentally and energetically.

The project is being documented as a journal, an archival map of process and source of performance material to be used to create an installation for in-person and remote performance and story-telling. We are offering a window into how we are reimagining dance performance production cycles of creation. Employing our human healing skills in relation to regenerative farming, we are exploring life and death cycles to create organic narrative for content. Just as True Earth wants to capture the whole plant, we want to capture the whole human in how we inhabit our art form. We are expanding the notion of where creative space exists and hope to create a model of production where industry and art happen in concert.

Here is our ongoing work archived into short films, full archive to come!


Improvisation filmed at sunrise April 8, 2021.
Performers Megan Schneeberger and Precious Jennings
Sound: Wilson Tanner Smith recorded June 21, 2021
Location: Sullivan's Island, South Carolina Text written and spoken by Precious Jennings. Megan wears a white dress left to her by a loved one. Precious wears a bright red sweater she knit in January 2021, from yarn left to her 20 years ago. She wears a dress her sister helped choose for her last performance before she passed. The poem is a distillation of writings from her contemplative movement practice and residency at The Hambidge Center.


The piano was recorded at 4:30pm at Hambidge Center for the Arts, Rabun Gap, GA. The movement was recorded in Charleston, SC at 4:30pm on a different day. A collaboration of two individuals, a body of water and the circumstances of grief at the waters edge. During the golden hour we move through, renew and find new pathways of expression to what grief is for us and how we stay in process through connecting to nature, self and other.

"Distance Duet" first collaboration between Megan Schneeberger (movement) on Sullivan's Island, SC and Precious Jennings (piano)recorded at The Hambidge Center in Rabun Gap, GA at 4:30 pm November 27, 2020